Ceraunus Blue and Cassius Blue butterflies on this page. When their wings are closed these butterflies are about the size of your thumbnail (or smaller if you have big thumbs). At the bottom of the page is a gray hairstreak which is a slightly larger butterfly with somewhat similar coloring.
Page 2 of 5
- - - - - - - - - - - - -
The Ceraunus Blue butterfly has a large spot on the edge of its wing that is bluish in color and has an orange ring around it.

The orange-ringed dark spot identifies this as a Ceraunus Blue butterfly perched on a fogfruit flower.

From the back with its wings folded up this Ceraunus Blue butterfly is barely noticeable on the fogfruit flower.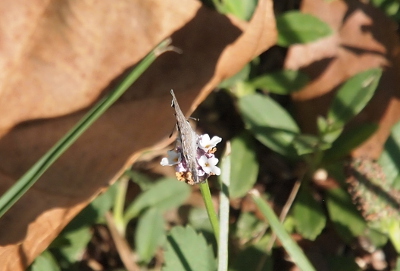 This is what Ceraunus Blue butterfly wings look like on the inside.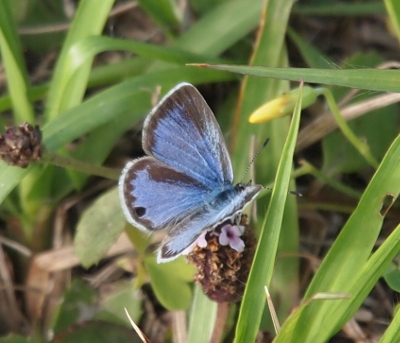 This Ceraunus Blue butterfly has a chunk of upper wing missing on the left.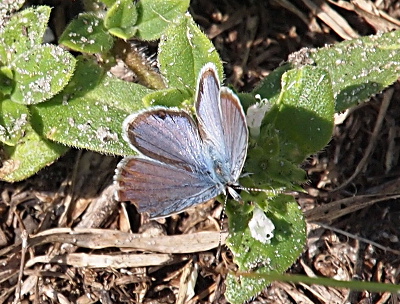 However, its wings are translucent so the outside markings can be seen on the inside when the light hits the wings from the side.

This is a zoomed out view of the prior image to give a sense of just how small this butterfly is.
It is the splotch of blue on the right side of the sycamore leaf. br>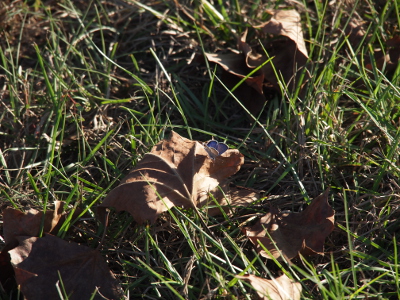 These two are end to end working on creating new little butterflies.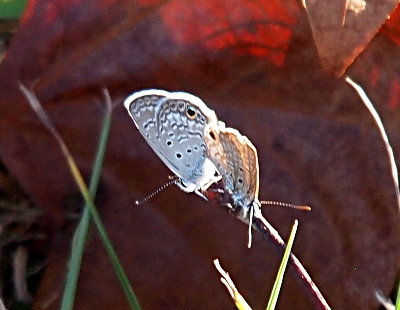 This is a Cassius Blue butterfly. It has two dark spots at the edge of its wings.

A straight-on view of a Cassius Blue butterfly.

Gray Hairstreak butterfly with its distinctive 'tails' visible in both images.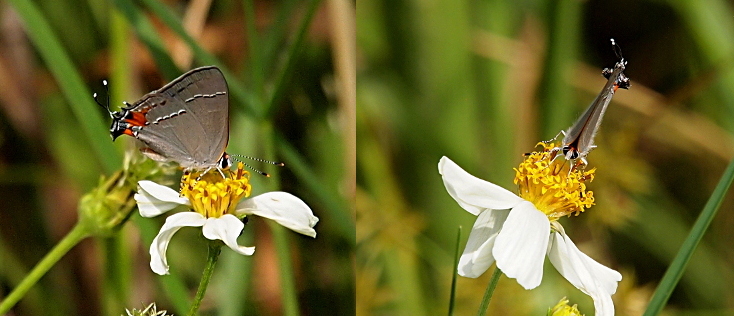 Continue to page 3 of 5 to see the "skippers" and "duskywing" butterflies.